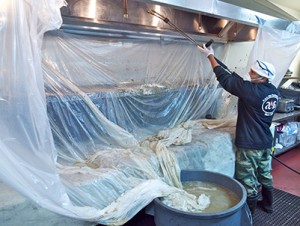 Pain-Free Commercial Grease Exhaust Cleaning
Our teams fully understand the challenges associated with keeping a commercial kitchen safe. We have developed procedures over the years that allow us to quickly and effectively clean your exhaust so you can get back to business. Plus, we're able to provide you with the paperwork that you need for insurance and building compliance to prove that your fire protection is up-to-date.
Our scheduled grease cleaning service ensures that you never go too long in between critical cleanings, reducing the chance that you'll experience a dangerous and expensive grease fire.
Use the quick chart below to determine your ideal frequencies.